Hauff-Technik puts down roots in the UK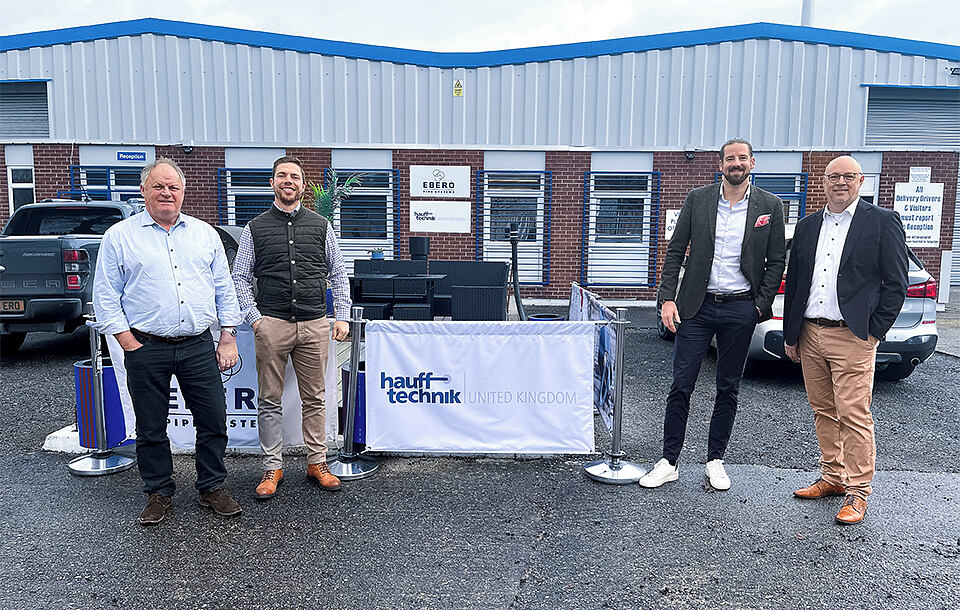 With the new subsidary in Chesterfield in the heart of England, we are strengthening our sales activities in United Kingdom.
Today we are establishing the next national company: Hauff-Technik UNITED KINGDOM Ltd. The establishment of a further subsidiary is intended to respond more intensively to customer needs, increase competitiveness and achieve even faster market development.
The newly founded Hauff-Technik UK Ltd. is based in Chesterfield, UK and is headed by Thomas Koelle and Jan Holly as managing directors.
"By being able to supply a wide range of products from stock, we have fast lead times for delivery within 24 hours on the UK mainland," says Thomas Koelle. "With a dedicated team of two field sales representatives, we do not only offer direct local contact, but also offer in-house training as well as on-site support and advice," adds Jan Holly.
"The foundation underlines our long-term strategic interest in the British market and also its important position within Europe. We would like to significantly expand our sales efforts in the UK in the future and are now laying the foundation for this," comments Dr. Michael Seibold, Managing Director of the parent company Hauff-Technik, based in Hermaringen in Baden-Wuerttemberg. Previously, the company had three subsidiaries: Hauff-Technik GRIDCOM GmbH in nearby Rosenberg, Hauff-Technik MIDDLE EAST LLC in the United Arab Emirates, and Hauff- Technik SWISS AG in Switzerland.
In order to be able to offer our British customers the best possible service, the extensive product portfolio of Hauff-Technik will in future be supplemented on the website www.hauff-technik.uk, which has been specially adapted to the British market, with products and information tailored to special country-specific requirements.

From March 1, 2023 you can reach Hauff-Technik UNITED KINGDOM via:
Hauff-Technik UNITED KINGDOM Ltd.
Units 1&2 Chesterfield Trading Estate
Carrwood Rd
Chesterfield S41 9QB, UNITED KINGDOM
Phone: +44 (0) 1484 522039